Places to visit in Somerset
From millenia-old caves to legend-swirling landmarks, family-friendly animal parks to chic cultural hotspots, iconic views, coastal days out, sensational gardens and historical attractions, Somerset's varied landscape offers all kinds of adventures. And the best bit? While everyone hotfoots it to Devon, Dorset and Cornwall during the warmer months, the county remains much quieter than it's neighbours. Looking for the top things to see and do in the area? Here are the best places to visit in Somerset.
Family attractions
On the edge of the Mendip hills near Wells, Wookey Hole is the largest cave system in the UK. The spectacular limestone caverns are famously home to the Witch of Wookey, who – as legend has it – lived in the caves during the Dark Ages. She was blamed for a number of woes, before being turned to stone by the Abbott of Glastonbury who had been called to exorcise her from the village. If you look carefully, her witchy figure can be seen, frozen for all time under the earth at Wookey Hole.
While the caves are the main attraction, there's lots to keep the kids entertained for a full day out above ground too; from animatronic dinosaurs, 4D cinema screenings, circus shows, and gigantic soft play to a (slightly-dated) Victorian-style arcade and a fairy garden.
Cheddar Gorge is Britain's biggest gorge and one of its most spectacular natural sights. Ragged cliffs, crags, dramatic pinnacles and far-reaching countryside make for some breathtaking views, best enjoyed from the hilltop walk.
There are also awe-inspiring sights to be seen below ground. The gorge is the site of Cheddar Caves – where Britain's oldest complete human skeleton, 'Cheddar Man', estimated to be 9,000 years old, was found in 1903. Closed since the onset of the pandemic, these incredible caves, gouged out of the Mendips, are set to re-open on 1 April 2021.
Don't leave without picking up some Cheddar Cheese from the charming High Street!
Set in a beautiful riverside park, Avon Valley Adventure and Wildlife Park has a winning formula for young families: animals, rides (tractor, spinning chairs, jeeps, boats and a miniature train), a jumping pillow, playgrounds and an indoor soft play.
During school holidays, the attraction puts on themed events, enchanted trails (we've got up close to an actual unicorn before…well, a pony with a rainbow mane, but still!), lambing events, meet-and-greets with beloved characters and a Christmas extravaganza.
Surrounded by 40 acres of rolling Somerset countryside, this family-run adventure park is jam-packed with fun stuff for kids. Outside there are tractor rides, a bouncing pillow, trampolines, a miniature train, crazy golf, playgrounds, bumper boats, a pedal kart track, diggers, a boating lake and water activities, dodgems-style cars, a high ropes course and all kinds of animals to meet.
Inside, you'll find an indoor soft play, animals to pet in the discovery barn, a couple of restaurants and a farm shop. Your biggest problem is trying to fit it all into one day!
Chew Valley Animal Park
In the heart of Mendip countryside, this family-run 'zoo' is a joy to visit with young animal lovers, especially in spring when little lambies and tiny piglets have just been born.
You used to be able to cuddle everything from hedgehogs, bunnies and guineas, to hairless rats, chicks, mice, lambs and tortoises, but after the pandemic, sadly Cuddle Corner is no longer open. However, visitors will still be able to go into paddocks once the baby goats are born in mid-Feb and there are plans afoot for a Guinea Pig village once the weather gets warmer. There's also an outdoor play area, lots of other animals to see and beautiful views over Chew Valley lake.
Iconic views
Steeped in mystical folklore, this iconic Somerset hillock topped with a ruined 14th century church tower, is renowned for being one of England's most spiritual sites and has bewitched the pious for centuries. Over time, myth has mingled with historical fact linking King Arthur, Avalon, Jesus Christ, the Holy Grail and magical ley lines to the sacred landscape.
To add to its allure, the Tor – a tiered cone-shaped grassy hill bulging 158 metres from the largely flat Somerset Levels – has some stonking 360 degree views from the top.
Burrow Mump
So good they named it twice…both 'Burrow' and 'Mump' mean hill! Not dissimilar to Glastonbury Tor (which you can see from the top here), Burrow Mump is another prominent hill in an otherwise flat landscape, topped with a ruined medieval church.
Centuries ago, King of Wessex, Alfred the Great used the Mump as a lookout for marauding Danes. During his reign, the Somerset Levels were a vast, marshy sea and this natural knoll was an isolated island. Nowadays, when the levels flood or the moors are covered in mist, you can imagine what it might have looked like hundreds of years ago – quite the photo op!
To park, there's a National Trust car park at the base of the hill.
According to some, when initially built, King Alfred's Tower stood with one corner of its triangular base at the union of the counties of Dorset, Somerset and Wiltshire. If that's true, the Dorset border has since been moved and the grade 1* listed building now straddles only Wiltshire and Somerset on the National Trust's Stourhead estate, although you can see over all three from the top of the tower!
The 49m high folly was designed by Henry Flitcroft for former Stourhead owner, Henry Hoare II in 1772 to commemorate the accession of George III to the throne and the end of the Seven Years War. The red brick tower supposedly stands where King Alfred the Great rallied his troops in 878.
History and heritage
In the centre of quirky Glastonbury, the abbey sits surrounded by 36 acres of grounds, 12th century ruins and a magnificent well.
Thanks to its links with Joseph of Arimathea (who is said to have brought the chalice from the last supper here, possibly accompanied by Mary Magdalene or even Jesus himself) and King Arthur (he is allegedly buried here along with Queen Guinevere), Glastonbury Abbey has held legendary status as the earliest Christian foundation in Britain since medieval times.
Today it is a peaceful setting where you can discover the intriguing stories and take part in a plethora of events – from festivals, to theatre, workshops and family school holiday activities.
Famous for its unique architecture, the 850-year old Wells Cathedral is a sight to behold inside and out. Free daily guided tours are available, or you can explore the building at your own pace, marvelling at its scissor arches and stained glass.
Thinking of taking the kids? A cathedral might not be the obvious place to go on a day trip – the whole peaceful-venue-containing-precious-items thing tends to put some people off, but I found the general hush in the cathedral can encourage a similar quiet from the offspring – definitely worth a try anyway! If you're not intending to loiter long, pyromaniac-leaning kids may like to light a candle before heading off to explore the town, Vicar's Close and The Bishop's Palace next door.
The Cathedral also boasts the second oldest clock mechanism in Britain, the octagonal Chapter House and one of only four chained libraries in the UK.
Sitting in the shadow of Wells Cathedral, but no less enchanting, is the stunning Bishop's Palace and Gardens with its moat, lolling swans, drawbridge, Great Hall ruins and well pools (which gave the city its name).
The palace has been home to the Bishops of Bath and Wells for more than 800 years and each has left their stamp on their place. Perhaps the most surprising legacy though, goes to one of the bishop's daughters who back in the 1870s, taught the swans to ring a bell on the gatehouse whenever they were hungry! Apparently adult swans have taught their cygnets this trick ever since. Otters and kingfishers also live here, so keep your peepers peeled.
For kids there's a natural outdoor interactive discovery area designed around the themes and stories of the palace, including a pole jungle, tree pods, a waterwheel and sluice gates.
Keep an eye on their website for seasonal events such as Santa visits, illuminations, school holiday fun, autumn treasure trails and more.
Set in fairytale English surroundings – think thatched cottages, multiple tea rooms, cobbled streets and sea views – this ancient turreted castle has been witness to some 1000 years of history from its Tor-top perch.
A former motte and bailey castle, it's now a country home under the care of the National Trust. Visitors can have a nosy inside the castle, explore the subtropical gardens, crypt and ghost exhibition, check out a Victorian reservoir and wander along to a working watermill and access numerous walks from the grounds, although check ahead to see what's open when.
It's also worth noting that it's tricky to get around with a buggy as there are often slopes and uneven stones or cobbles – this is more of a sling/carrier job if you're going with little ones.
If you're staying a while, pop Dunster museum, Dunster beach (shingle) and the steam train (West Somerset Railway) on your list of things to do.
For something extra special, time your visit with the annual Dunster by Candlelight, when the village is closed to traffic, the streets are lit with lanterns and the houses with candles.
On the edge of a little village near the Mendip Hills, rising majestically on its little island, the water-filled moat of ruined 14th century Nunney Castle sets it apart from other historic fortresses. Now under the care of English Heritage, it's free to visit, with a little wooden bridge that lets you look inside the castle. Imagine life in medieval times, armour-clad knights clunking around and danger on the horizon!
The West Somerset Railway is the longest heritage lines in England, stretching across 20 miles of rolling Somerset countryside, through the Quantock hills and along the Bristol Channel between Bishops Lydeard and the coast at Minehead.
Hopping on (and off) historic steam locomotives, from any of the ten restored stations en route, including beautiful Dunster Castle is a charming way to see the country's least-visited national park, Exmoor.
Over on the other side of the county, this preserved steam railway runs through the Mendip countryside near Shepton Mallet. Covering 2.5 miles of heritage track, train journeys take around 40 minutes to do the round trip.
For younger train lovers, there are occasional appearances from choo choo fave, Thomas the Tank engine and friends. There's also a museum, art gallery, shop, cafe and kid's playground onsite.
For a spot of culture, head to the atmosheric 12th century Taunton Castle. This museum tells the county's fascinating story from prehistoric times to the present day. Seek out the Plesiosaur, be wowed by the largest collection of Roman coins ever discovered in Britain and visit fascinating exhibitions.
Locals should book ahead for popular monthly 'Toddler Explorer' sessions and special events held during half term. There's also the Somerset Military Museum next door.
Tucked away in the rural village of Stoke St Gregory, in perfect willow-growing country – the Somerset Levels – is Coates English Willow & Wetlands Centre. The Coate family have been growing withies on the moors since 1819 and making baskets and willow charcoal for almost 50 years. Check out the museum to spot willow curiosities and artefacts from 100 years ago or venture out into the grounds – there are 3 different paths you can choose.
Look out for themed Willow Sculpture Trails!
Based underneath Glastonbury Tor, Somerset Rural Life Museum examines the rich social and agricultural history of Somerset from the 1800s onwards.
Learn more about the county's heritage including its landscape, food and farming, working life and rural crafts, explore the cider orchard, 14th century Abbey Barn and check out exhibitions in the farmhouse/cowshed galleries.
Seasons are celebrated with traditional Somerset events like the New Year Wassail regular, and themed family days take place throughout the year. Admission is by pre-booking only via the website.
One of the largest aviation museum's in the world, Fleet Air Arm is home to a whopping 90 flying machines. Inside its vast exhibition halls you'll find Europe's biggest collection of naval aircraft, the first British Concorde (which you can climb inside and view the cockpit) and the chance to 'fly' by helicopter to the replica flight deck of the HMS Royal.
Kids can really get into character in the fantastic outdoor play area, which is based on the new aircraft carrier HMS Queen Elizabeth!
Keen plane spotters should keep their eyes to the skies – located near RNAS Yeovilton, you are likely to see aircraft going through their rigorous training procedures while visiting.
From Somerset trains, to planes to automobiles…discover the fascinating stories behind motoring history at Haynes International Motor museum. Housing the UK's largest collection of cars and motorbikes in 17 large exhibitions, amongst the gleaming bodywork you'll find cars from the earliest days of motoring right up to mega-powerful F1 beauties.
Learn how a car works, Paint a Mini, take on the Top Trumps trail, mess around at the outdoor playground and whizz around on coin-operated go-karts!
This delightful narrow gauge railway runs along the the old Somerset and Dorset railway line and is privately operated by the Gartell family and their friends. It's only opened to the public on selected dates throughout the year, so do check their opening times online for the latest timetable and opening hours.
Shepton Mallet Prison has several accolades to its name that make it stand out from other historic lock-ups. Built in 1610, until 2011 it had been the UK's oldest operating prison; it also has the second highest prison walls (75ft) in the country (after decommissioned Lancaster Castle) and is supposedly the most haunted jail in the world!
Of course as a prison, it's past is dark and brutal, characterised by executions, hard labour and horrendous inmate conditions for 17th and 18th century inmates. Notorious gangsters the Krays spent time behind bars here along with military prisoners when used by the British and Americans in the 2nd World War.
These days, guided tours offer a fascinating insight into penitentiary life, Escape Room experiences offer an incredibly realistic immersive experience and ghost tours examining the grittiest of the prison's history challenge the fearless to discover what lurks here in the dead of night. There are also live music nights for those after a memorable gig, just don't get locked in!
Country houses, parks and gardens
Located just outside Taunton, Hestercombe's magnificent grounds encompass three centuries of gardening history. From landscaped Georgian gardens which feature a waterfall, classical buildings, wooded valley walks and lake, to a Victorian shrubbery and Edwardian Arts and Crafts-influenced formal gardens.
The 40-acre estate gazes over beautiful Somerset countryside and there's a fantastic cafe, restaurant and contemporary art gallery to boot. Look out for seasonal events such as half term Halloween trails, Christmas lights and more.
An award-winning arable farm surrounded by South Somerset countryside, the last few years have seen Frogmary Green grow from a green field to a lovely cafe serving creative food (including takeaway fare), meandering paths set around a lake, an amphitheatre-esque grassy hill, small play area for the kids and wildflower meadows. There are grand plans afoot in 2022 to open a spa and more areas for customers to enjoy too.
Bring your reusable glass bottles as there's a milk vending machine onsite and beautiful blooms to buy, that are either homegrown or sourced from local suppliers.
Look out for family-friendly events such as sunflower picking, pumpkin plucking and a Christmas light trail.
The name of this intriguing estate comes from the Lyte family, who lived at the manor house for over four centuries, plus the River Cary which flows nearby. The house, which is made up of a mish mash of parts dating from the 14th to 20th century, is surrounded by enchanting 'arts and crafts' style gardens, a formal orchard, acres of fields and some lovely woodland.
It's a great one for kids thanks to its forest trail – after log-hopping, swinging from the branches and seesawing on logs, come back to picnic upon the lawns and marvel at the beautiful floral borders and neatly-clipped towering topiary.
There's also a cafe onsite and events run regularly – don't miss the popular Halloween trail.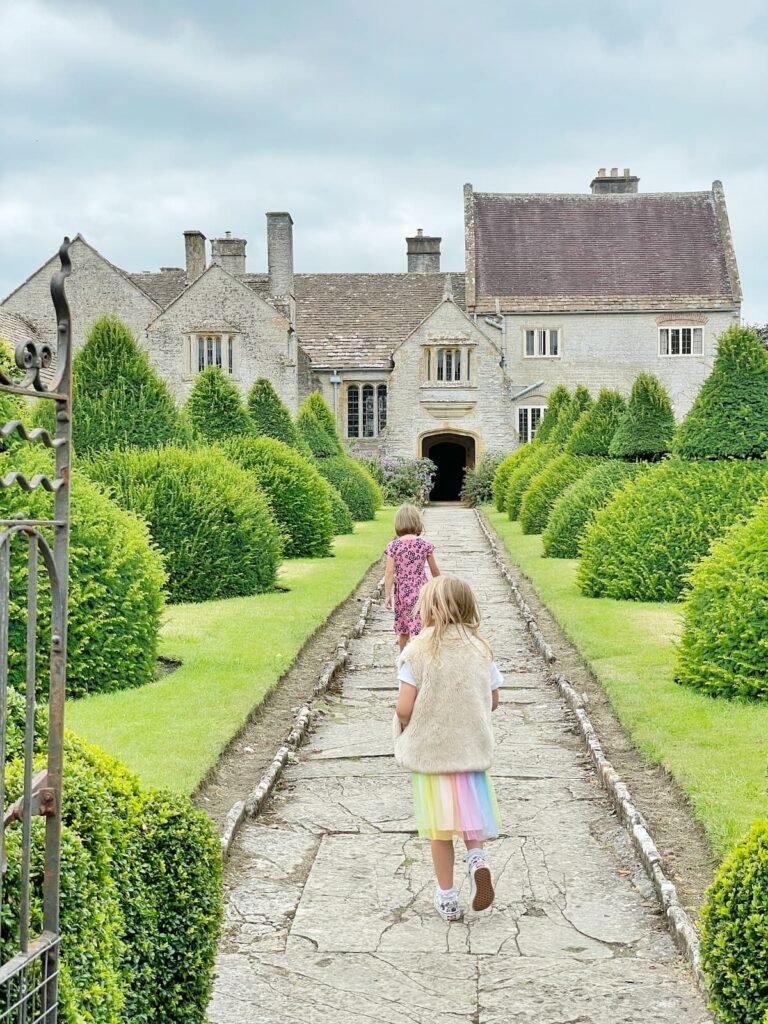 This small, peaceful garden complements a 17th century Grade 1 listed house (the majority of which makes up a National Trust holiday cottage). Phyllis Reiss was the brains behind the Arts and Crafts style design here, characterised by 'rooms' (of which this one has 7), clipped topiary and colourful mixed borders. A leisurely stroll will treat you to sparkling pools and fountains, a working kitchen garden and orchard.
Make sure you check opening times ahead of your visit as the garden is often closed during the winter and on weekdays.
scientist and poet Andrew Crosse and his family, who lived here until the house was destroyed by fire in 1894. A great place to take the kids, there are fallen trees to clamber over, streams to splash in, plenty of places to picnic, plus a play trail and tea room.
The gardens of East Lambrook aren't huge, but the amount of flower power that's packed into them is quite remarkable. Apparently it's England's foremost cottage garden, created by gardening legend Margery fish (strong name). While the colours are particularly eye-popping in autumn, February is the real show-stealer here, with a month-long festival devoted to snowdrops.
It's impossible to fathom nowadays that Montacute House was offered for scrap, back in 1931, before being rescued by the National Trust. It's a beast of a mansion house – a masterpiece of Elizabethan architecture, built from the county's gleaming ham stone and designed to boast the wealth and power of its owners.
Inside the house you'll find towering tapestries, antique furniture and the spectacular Long Gallery (the longest of its kind in England) – built for exercise on a rainy day and intended to be a 'lantern of light' in the landscape. The views from the top are stupendous and the gallery is just crying out for little legs to race up and down (although definitely don't let them, it's not allowed!)
The gardens are tremendous and feature fairytale turreted outbuildings, a carp pond with fountain, ice house and wibbly wobbly hedges! Visitors can stroll around the grounds or trek further afield into the surrounding countryside.
Located next to the picture-perfect village of Barrington, this stately home – one of the first to be owned by the National Trust – is set in picturesque gardens and surrounded by luscious Somerset countryside.
There's plenty to occupy visitors within the grounds – in summer, the tennis courts are opened up and the gardens are a rainbow riot of blooms – from red rose-bordered ancient stables to a flurry of white petalled beds, and an incredible kitchen garden, it's a veritable flower feast for the eyes. Tumbling wisteria dominates spring, while autumn sees the likes of 'hinky punks' descend on the estate, apple picking and nature-inspired crafts.
Located on the outskirts of Yeovil is this lovely leafy place. A pretty place to stroll, it's particularly good for families as there are so many things to keep little legs motivated. Potter along Ninesprings Valley Gardens under towering trees to discover waterfalls, stepping stones, hidden grottoes, pretty arches and fairy-esque bridges. The Halloween trail here is particularly good.
There's also a playground to entice young walkers and some nice flat paths for skating, scooting or biking, plus a cafe next to the car park.
Just a stone's throw from Bristol, this gothic-style Victorian manor house surrounded by 540 acres of beautiful parkland, woodland and gardns used to be one of our go-to days out when we lived in the city. Seasonally-themed family-friendly events take place all year round, making school holiday visits particularly exciting – think Easter egg trails, gorgeous pumpkin displays and a Victorian Christmas extravaganza.
For the caffeine-needy, there are a couple of cafes onsite, so grab a coffee and watch while your little ones pelt it around the natural playground.
Journey back 700 years in time through the history of America from its early settlers to the twentieth century. ​​The American Museum, based at Claverton Manor near Bath is full of incredible artefacts, including tools used by cowboys, gold miners and pioneers, paintings and hand-made quilts.
Learn about the Founding Fathers, Native Americans, and the Civil War, walk in a replica of George Washington's garden at Mount Vernon, let kids go wild in the play area and marvel at far-reaching views across the Limpley Stoke Valley.
Prior Park was built in the 18th century by Ralph Allen, a Postmaster of Bath who became integral to the development of the British postal system. From humble beginnings, Allen rose to be one of the wealthiest men in Britain and with his riches he built a mansion with magnificent views of the city – Prior Park.
The grounds are set in a sweeping valley and created in collaboration with famed landscape designer, Lancelot 'Capabliity' Brown as well as the poet Alexander Pope. The showpiece at their heart, a stunning Palladian Bridge is one of only four left in the world.
The gorgeous grounds of the luxurious five star Newt Hotel are open to the public to explore. You have to pay to get in, but if you buy membership (£48 for over 17s – youngsters go free with members), you have unlimited entry for a whole year, and to see the estate at different times of year along with the seasonal activities on offer, it's well worth it.
A D-shaped parabola boasts every apple variety growing in England, arranged in a Baroque-style maze, with the many varieties twisted and trained into pleasing shapes. Buggy-friendly paths lead off through ancient woodland to a bough-brushing serpentine treetop walkway and natural wood playground, a 300-year old Druid Tree, Story of Gardening museum, and wild swimming ponds (containing the hotel's namesake creatures – great crested newts).
Every inch of this place feels aesthetically-honed, from the slick cyder press and bar, to the thatched ice cream parlour. And it's not just got a pretty face – the gardens are as productive as they are easy on the eye, providing leaves, berries and vegetables for the onsite eateries, while the woodland provides shelter for wildlife. We were treated to a whole herd of deer trotting through the trees on our last visit! Upmarket loveliness.
This magnificent country house with award-winning gardens sits right on the border with Dorset, but is just tucked enough into Somerset for the county to claim it. Kids will love the willow labyrinth, spotting wildlife on the lake, wide open lawns and letterbox trail. Adults might want to time the visit for seasonal star attractions such as February Snowdrop Weekends, Crocus Week (early March) when jewel-like flowers carpet the lawns, Tulip Extravaganza (mid-April-mid-May) and Spectacular Sweet Peas (July).
Look out for outdoor theatre events, pumpkin rolling and the chance to pick your own fruit in the grounds and make sure you book online for a 10% discount.
On the North Somerset side of Bristol's Clifton Suspension Bridge is the 850-acre estate of Ashton Court. Green open space is in plentiful supply here and mountain bikers, horse riders, golfers and families flock here for countryside ventures close to the city. Fallow deer roam in fenced-off enclosures here, and it's always exciting to spot them if they're grazing close to the railings.
If you're visiting between March and October, be sure to check ahead to see if the Miniature Railway is running (90p a ride, 10 rides for £8) – it's brilliant, cheap fun.
Arty places to visit
Close to the Londoner-favoured, artsy haven of Bruton, Hauser & Wirth is an innovative, world-class, contemporary arts centre with a spectacular Piet Oudolf-designed landscaped garden. Located on working, free-range Durslade Farm, the arts centre offers a unique way to experience idyllic Somerset countryside and architecture. Artistic immersion doesn't stop at the onsite restaurant though, where you'll find an array of vibrant artworks on show alongside produce from the farm and walled garden.
The gallery and gardens are free to enter, but they do ask for a donation to their chosen charities and that you reserve a timeslot in advance.
Places to visit on the Somerset coast
From Victorian seaside resorts to seemingly endless beaches, soaring peninsulas and donkey rides, I'm going to be dedicating a full post to Somerset's coastline, so check back here to discover the county's best beaches…
Clevedon Pier and Marine Lake
Marine lake swimming, pebble beaches, poetry-inspiring coastal walks and a side of Victorian English seaside charm – Clevedon is one of our favourite family days out when the sun is shining.
Don't miss Clevedon Marine Lake, an enormous tidal infinity pool with a Bristol Channel backdrop. You'll need a thick skin or a wetsuit to brave a dip in the water (it's about 13.5 degrees C in May), or you could always take a paddleboard or canoe. Even if you're not venturing in, kids love walking around the edge and there's crabs if you have the kit to fish them out, plus Salthouse Fields with its miniature train (£1.50) and playground next door.
Clevedon Pier – the 'most beautiful pier in England' according to Sir John Betjeman – was finished in 1869 and was used as a landing point for paddle steamers transporting passengers along the Severn Estuary from Wales and Devon. Waverley cruises to Minehead, Ilfracombe, Penarth, Porth Cawl and Swansea still leave from here.
Pay just a few pounds (adult -£3.50, child aged 4-15 – £2.35, family £10) and you can shimmy (or croon One Direction style – the band filmed on the pier a few years ago) down the UK's only Grade 1* listed pier. Pop into
For more tips on things to do in Clevedon with kids, read the blog on my other website, ThisBristolBrood.com
The North Somerset coastal town of Weston sometimes gets a bad wrap (anyone remember that Bottom sketch with Rik Mayall and Ade Edmonson?), but if you're looking for an big chunk of beach to run around on, with a few classic English seaside-y shenanigans thrown in, it works pretty well.
Although you can't swim in the sea here, there's some great sandcastling to be done on the patch of beach just along from the Grand Pier (just watch for the sinking mud signs). You'll also find a range of outdoor beach – bouncy castles, swing boats, ice cream, donkey rides and SeaQuarium – activities to keep the kiddos amused, if they ever tire of digging (is that possible?)
In bad weather, the Grand Pier, although a little on the tacky side, is quite fun for mini roller coasters, kiddy rides and arcade games.
Bath
The UNESCO city of Bath deserves its own section – as former Digital Marketing Manager for Go Bath Bristol, I have lots of insider knowledge on the city! Soooo my top tips for Bath are coming soon in a separate blog…
Attractions
Things to do