Flagstone floors, hefty wooden beams, open fireplaces and a lingering olde worlde atmosphere, there's no denying Somerset's country pubs have bucketloads of character. Some of these rural boozers have really upped the ante in the culinary stakes, gone out of their way to source the best local seasonal produce (or grown their own) and created a tastebud-tantalising dining experience to rival the best restaurants, making themselves destination pubs in the process. I've got lots left to try, but here are my recommendations for the best South Somerset gastropubs so far…
Best South Somerset gastropubs
Close to the Blackdown Hills Area of Outstanding Natural Beauty, this roadside gastropub offers Italian-accented cooking, hearty roasts and excellent puddings. If you're popping in for a cider, best to check out the list yourself before you take your seat – this is Somerset after all, and the emphasis on West Country booze here means the list is quite long! Thanks to our very patient waitress who wrote down the many varieties and read them out to us at our table. You'll also find Julian Temperley's speciality cider brandy, Somerset Pomona on the digestif menu, along with 21 varieties of gin behind the bar.
On sunny days, sipping some such tipple in the leafy suntrap patio garden, with its dangling grape vines and vibrant flowers, evokes strong Mediterranean vibes. Chillier mealtimes call for the log burner to be lit in the neutral, contemporary interior.
The roadside tables are convenient for pit-stopping cyclists and the proximity to the A303, plus its six en suite bedrooms, means it's also a handy stop-off for those venturing further south west.
Nestled in one of South Somerset's most picturesque hamstone villages, this 17th-century thatched inn is the ultimate gastropub with atmos and has been getting the formula just right for years. I'm fondly attached to the place – Doug and I spent our wedding night here in the above-pub-perfect bedrooms (there are six – ours was the one with the in-room slipper tub) and my sister-in-law had her wedding here.
Duck egg-blue walls, dark wood, candles, huge beams, exposed stone, foliage on the ceiling and a choice of snuggly nooks and open firesides means this place oozes cosy in the winter months. Come summer, the lavender-tinged, Provençal-style courtyard garden is the perfect place to while away the afternoon with a cocktail.
Menus are devised from meat and game from local farms, West Country-made cheeses, fish landed daily on the South coast, and fresh leaves picked in the pub's own kitchen garden. Much is made, cured and smoked in-house and if you struggle to choose which Sunday roast meat to go for, it's not a problem here – select all three on one plate!
This gastropub (with rooms) sits opposite an octagonal church in the beautiful conservation village of Barrington, surrounded by local stone and thatched roofs. Headed up by husband (chef Alasdair and his 10 years experience of working in Michelin-starred restaurants) and wife (Victoria) team, the Barrington Boar was listed in The Times as one of the 30 best places for a pub lunch in the UK in 2020.
Their regularly-changing dishes are sourced mostly from local farms, cheesemongers and brewers and feature West Country gins, a Somerset sparkling wine, craft beers and cider, of course. The food is modern British with – in their words – 'a deep connection to Somerset's rich culinary heritage and terroir' and it's seriously yummy.
There are several umbrella'd benches out front to enjoy a pint on as sleepy Somerset village life plods by, an al fresco dining garden for warm days and a light, airy interior with beamed ceilings, wooden floors and an open fireplace for the rest of the year. When we visited, colouring was quickly distributed to our young (always appreciated!) who got to work immediately.
Walk off a good feed at nearby National Trust Barrington Court and Gardens, or check out their Apple Heritage Walk to discover more about the region's cider-making and apple-growing traditions.
On the edge of the Blackdown Hills, this family-run Somerset gastropub dates back to 1640, making it the oldest watering hole in the area. The pub underwent major renovation in 2018, but kept much of its 17th century character – think open fires, flagstone floors, flickering candles on exposed brick and while you dine.
The menu is classic British with produce hailing from Somerset, Dorset and Devon and I can confirm their roasts are cracking, so too are their wood-fired pizzas. There are benches on the characterful front courtyard and a beer garden out the back for summertime drinking, and if you don't fancy stumbling too far home, six guest bedrooms to choose from.
I haven't visited The White Horse yet, but I have it under good authority that the husband and wife-run pub serves one of THE best roasts around, with extra flavoursome gravy and amazing veg. Along with its roaring winter fire and summer rose garden, the 17th century coaching inn is top of the list for my next fine pub dining experience…I'll report back in this cyber space soon!
South Somerset gastropubs on my list to visit:
I'm slowly making my way around Somerset's gastropubs and will write them up as I go. Do feel free to message me if you can recommend anymore or if you'd like me to come and eat at your pub!
The Crooked Swan, Crewkerne (Somerset gastropub/hotel)
The Queens Arms, Corton Denham (Somerset gastropub with rooms)
The White Post, Rimpton (views!)
Devonshire Arms ( gastropub with rooms)
Cat Head Inn, Chiselborough (rated top 10 best Somerset pub with garden by The Guardian)
The White hart, Somerton (Somerset gastropub with rooms)
The Red Lion Inn, Babcary (Somerset gastropub with rooms)
Candlelight Inn, Chard (top 10 best pubs in Somerset by The Guardian)
Somerset gastropubs to visit further afield:
Mendip:
The Sheppey Inn, Godney (gastropub with rooms)
The Litton, near Wells (boutique hotel and gastropub)
The Talbot Inn, Mells (part of the Lord Poulett and Beckford Arms fiefdom)
Sedgemoor:
The Swan, Wedmore – (boutique hotel and gastropub/restaurant)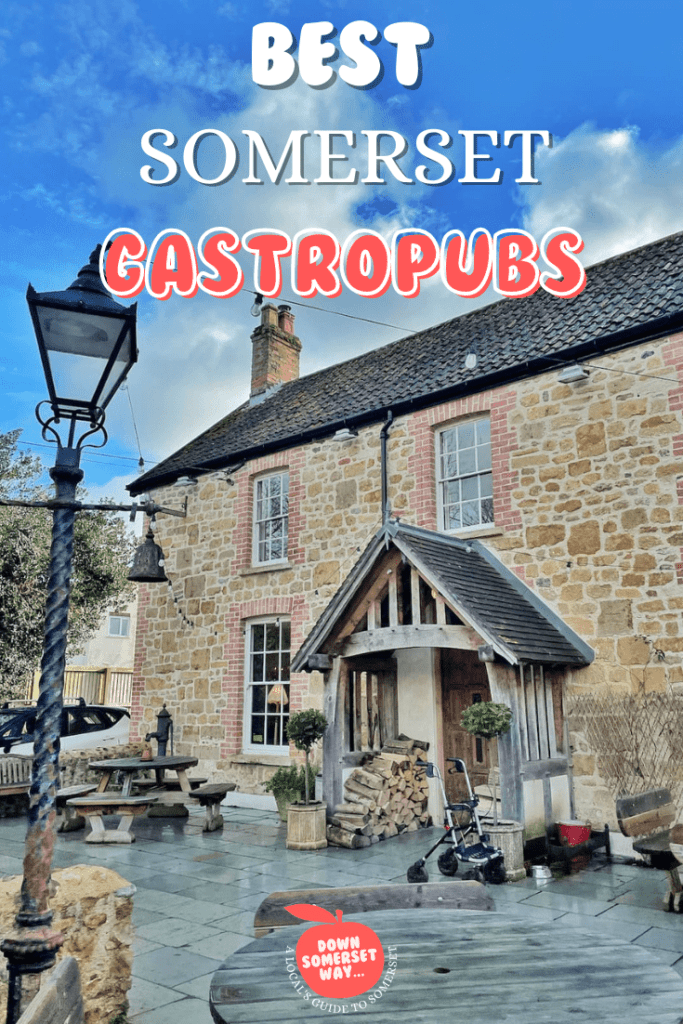 You might also like:
Places to visit in Somerset: best attractions
Country pubs
Drink
Eating out