Being able to pick your own flowers, fruit and vegetables in the sunshine makes a glorious, wholesome day out, is a brilliant way to keep kids entertained (and educated on where produce comes from), far more fun than traipsing around a supermarket and an excellent way of boosting your eco credentials by picking up groceries without all the plastic.
There's no taste that evokes the English Summer quite like a succulent strawb plucked straight from its runner, no supermarket apple that can compare to the crunch and satisfaction of picking one straight from the tree and no greater joy than wandering through a sea of sunflowers to select a bouquet of your own.
Whether you're after summer-ripe berries, vibrant blooms or autumnal apples, you can get straight to the root and take your pick at these farms in Somerset.
Pick your own flowers, fruit and veg in Somerset
Pick your own flowers in Somerset
Based on a picturesque working farm with a cafe, florist and beauty spa, surrounded by rolling fields and pretty gardens to short-stroll around, Frogmary Farm adds towering stalks of custard-yellow petals to its offering in the later part of the year with a pick your own sunflower field.
Come October their pumpkins will be ready for the taking!
Pick your own flowers at Farrington's Farm, Farrington Gurney
Pick your own flowers and make a family day out of a visit to Farrington's Farm. As well as PYO tulips (April-May) and 4 acres of sunflower fields, the North Somerset Farm has a play barn for youngsters, a straw 'pool', an outdoor farm park with animals, gorgeous farm shop jam-packed with homegrown fresh seasonal produce and an onsite cafe.
Bright yellow blooms will be ready for the plucking from August, look out for the Kids Fest that runs at this time during the summer holidays too.
Come in October for a veritable pumpkin picking extravaganza.
Gather armfuls of nostril-pleasing stems from Somerset Orchard Garden's field of fleurs, near Chewton Mendip on 23 & 30 July and 14 August. Bouquets of blooms cost £12 per 18 flowers, including 6 dahlias and 12 from the summer flower meadow. Only 6 tickets are available per session, so make sure you book in advance to secure a place.
High above the valley, surrounded by idyllic scenery in the heart of Exmoor is this PYO organic blueberry farm, brewing up the freshest, tastiest blueberries in the land. 12 acres of blueberry plants have been left to their own devices, pollinated by bees and butterflies to grow into succulent berries, far better than anything you'll find in the supermarket.
The crop of blueberries is estimated to be ripe for picking around the second week in August, but keep an eye on their website and social media channels to check if this is the case. They also recommend you check the weather before coming as wet blueberries don't last very long, even in the fridge.
If you can't bear to drag yourself away from this heavenly spot, you can camp right next to the blueberry fields, listening to the sound of birds and bleating sheep, and stargazing at night. This area was one of the first Dark Skies reserves, so on a clear night, you're in for a twinkly spectacle.
Historic Forde Abbey's fruit farm sits about a mile away (address TA20 4NA) from the mansion house and its beautiful grounds. Strawberries, gooseberries and raspberries are all grown here using a table top system until the end of July, so you can save your back and little ones can still reach the low-hanging berries. Blackcurrant and redcurrants come a little later. Bring your own container to fill it with delicious fruit!
Check their Facebook page for the latest updates.
Not far from Taunton, this fruit-growing farm is run by the Quick family who have farmed on the foothills of the beautiful Quantocks for much of the last century. They grow several varieties of strawberries throughout the season, plus gooseberries, raspberries, loganberries, redcurrants, blackcurrants, rhubarb, broad beans and potatoes.
Of course the availability of the fruit is subject to England's variable seasons, so check their website/contact them beforehand for timings and to check what's on offer.
Once you've collected your berry haul, there are picnic benches outside (plus more in a sheltered barn) to gobble them on. Grab some cream or ice cream from the kiosk for added scrumptiousness.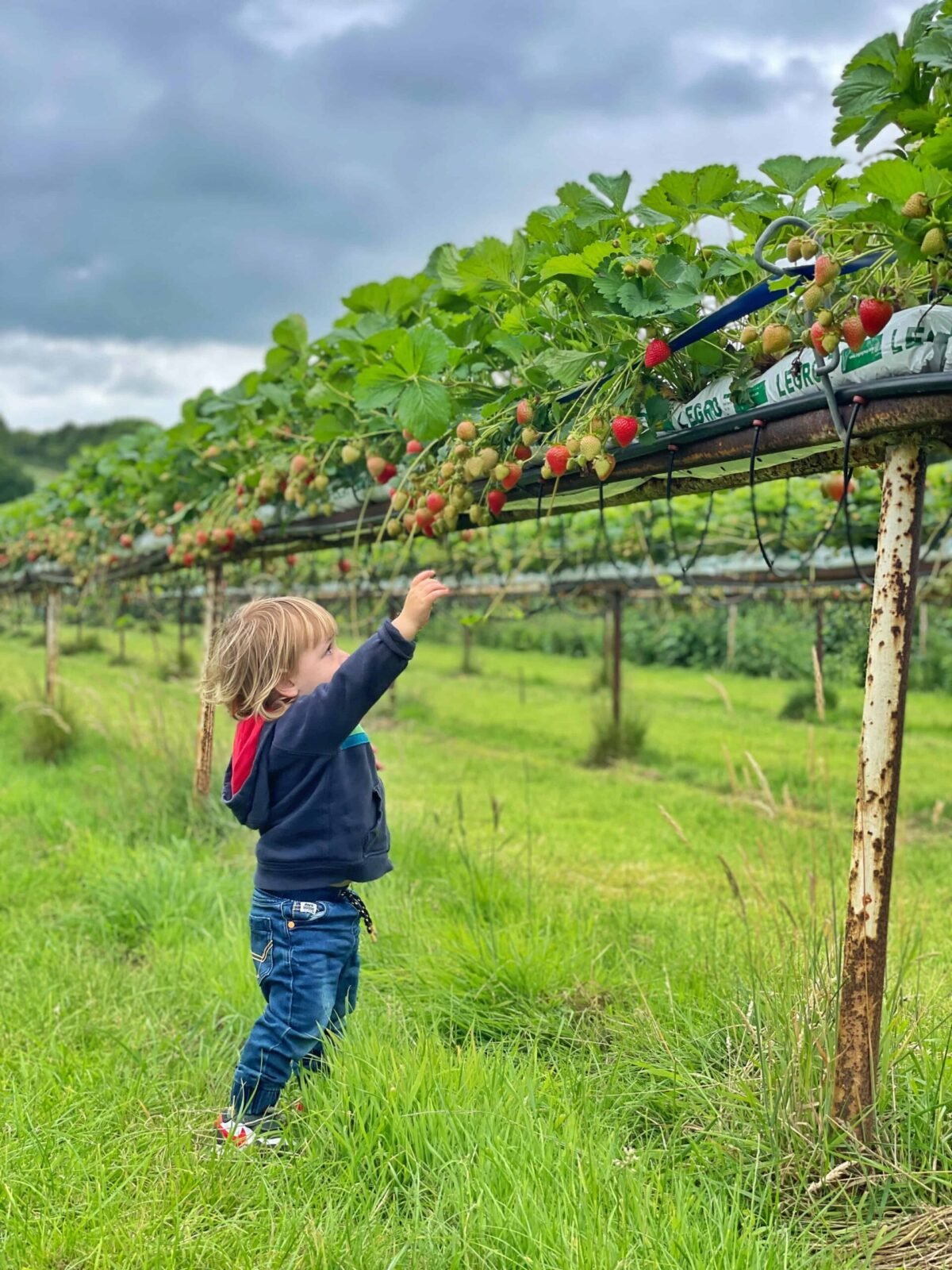 Pick your own apples in Somerset
North Perrott Fruit Farm offers a selection of apples and pears for PYO from mid-July to October. Harvest your own apples for eating, cooking, juicing and cider making six days a week, purchase pretty blooms from the Plant Centre, stock up on verdant locally-grown veg and freshly-pressed juice from the Farm Shop or refuel with a coffee at the cafe.
West Bradley Orchards, Glastonbury *Closed, under new management*
If there's one thing Somerset excels at, it's apple growing, and this patch of West Country land has seen them grown commercially for over one hundred years. The Clifton-Brown family's beautiful 70 acre farm grows over 15 different varieties of apples (including dessert apples), 3 kinds of pears and walnuts under the gaze of iconic Glastonbury Tor. Four pick-your-own weekends take place in September – keep an eye on their website for confirmed dates. There will also be applewood logs, local honey, apple juice and cider for sale.
Pack a picnic, potter through the orchards and pick a bushel or two straight from the tree.
NOT pick your own flowers and fruit farms in Somerset selling homegrown produce
Want to stock up on freshly-picked fruit and vegetables straight from the growers? These Somerset farms do the picking for you, so you can just rock up and pick up some healthy, tasty treats.
The only commercial Cherry Orchard in South Somerset is home to 4 acres of cherries and 14 varieties of black dessert cherries, all ripening at different times in the season. The harvest typically extends from late June to early/mid-August. Check their Facebook page for updates on supply before turning up to the farm shop, or catch them at Somerset Farmers' Markets.
Stop by for fresh homegrown products, different types of apples, cherries, cider, apple juice, plums, fresh eggs, and asparagus.
Fresh Cheddar Valley strawberries, fruit, vegetables and dairy available to click and collect from our Farm Shop in Draycott, Somerset. Rumour has it that PYO strawberries might be coming soon…
Currently closed.
Liked this post on where to pick your own flowers, fruit and veg in Somerset? Read more:
37 Things to do in South Somerset with kids
Best cafes in Somerset for brunch