Green green grass, golden corn, and a whiff of fields heated by the sun, lingering in the evening air (you know what I mean, right?) – it's summer in Somerset! And after two years spent pretty much on hold, this summer in Somerset promises exciting events, festivals, family fun and plenty of (fingers crossed) sunny days out. If you're looking for ways to entertain your little squirrels during the summer holidays, I've put together a list of family-friendly days out in Somerset, to keep all ages happy.
If you've got an event I haven't listed, just get in touch and let me know, and I'll add it to the list. Enjoy!
Family-friendly days out in Somerset
Art and crafts
Delve into the imaginations of some of the world's most captivating 'monster' illustrators who bring beasties to life in childrens' books. This new family-friendly exhibition features 70 artworks, including images from Axel Scheffler (The Gruffalo, Zog etc), Jim Kay (A Monster Calls) and Lydia Monks (What the Ladybird Heard, Sugarlump and the Unicorn).
Young visitors are encouraged to make their own 'monster in a jar' at home (watch the video here) and bring their creation to the museum for the chance to be included in the exhibition.
Alongside the exhibition, drop-in, monster-themed craft activities are taking place throughout the school holidays, £2 per child. See the website for the full programme.
Ever wanted to try your hand at pottery, or learn how to turn a bonfire into a pottery kiln? Head to Yeovil Country Park for a two-day Wild Pottery session where you'll forage for firewood, get creative with clay, create a wildlife-friendly seed bomb, build a fire, try your hand at log splitting, and toast some treats too.
This two-day event takes place from 10am-12pm and is aimed at children aged 7-11, accompanied with a parent/adult.
Creepy Crawly Crafting at Ham Hill (31 July) and Chard Reservoir (2 August)
Discover Ham Hill's creepiest, crawliest creatures with a ranger-led toddler group (aimed at kids aged 2-5 years old, accompanied by a parent). Catch and release flying insects using a sweep net, make your own creepy crawly out of clay and twigs, and find a home for your beasties in the undergrowth.
Summer crafting at Glastonbury Abbey Museum
Get crafty at Glastonbury Abbey Museum with a packed schedule of making activities. Build a model of the lady chapel (11am, 23 July), make wiggly caterpillars (11am 27 July), flapping butterflies (11am, 29 July), a dream catcher (11am 2 August), a simple book (4 August), a medieval tile (9 August), a sock puppet (11 August) and more (see website for details).
Learn how to create your own custom bath bombs using natural, organic ingredients in this fun workshop led by Medical Herbalist Lis Jorgensen and the Neal's Yard Remedies Team in Taunton.
Axe throwing, soft archery, a bouncy castle, crafts, birds of prey, pedal juicer and facepainting – expect oodles of family fun at South Somerset playdays – South Petherton Recreation Ground (24 August). More to be announced, keep an eye on their FB page for details.
SEE MONSTER, Weston-super-Mare (27 August-31 October)
An awe-inspiring attraction opens up in Weston-super-Mare this summer. Created from a former North Sea offshore platform, SEE MONSTER is a retired oil rig that's been reimagined as an immersive experience inspired by the great British weather and green technologies. This beast is springing to life in the Tropicana, Weston's seafront arts space. The transformation of the platform is a world-first that aims to inspire global conversations about the repurposing of large industrial structures and design-led solutions to sustainable futures.
Days out in Somerset gardens
Seek out all 12 Alice in Wonderland-themed willow characters and you'll win a prize! Half hour slots are available throughout the day – book a place for each person wishing to gain entrance to the sculpture trail. Age 2 and under are free.
July at the magnificent Forde Abbey is sweet pea season. Expect vibrant, fragrant, beautiful blooms bedazzling the 30 acres of grounds. Afterwards, pick up a bunch to spruce up your home in the gift shop.
Hestercombe is taking visitors around the world in 40 days…of the summer holidays. 'Travel' to famous landmarks across the globe on your adventures in the beautiful gardens and taste food from different countries. Each week is themed, with India up first (25-31 July), then Australia week (1-7 August), Egypt week (8-14 August), America Week (15-21 August) and finally, Italy week (22-28 August)
Activities during the themed weeks include yoga sessions, Mandala painting, meeting exotic creepy crawlies, aboriginal dot art boomerangs, an archaeological dig, writing in hieroglyphics, getting up close to birds of prey, punting on the pear pond and making Venetian masks.
Stunning Bishop's Palace and Gardens with its moat, lolling swans, drawbridge, Great Hall ruins and well pools, is hosting a summer holiday family trail (different each week). Collect from the Ticket Office, or download one from the website, and, when you've completed it, you'll be rewarded with a prize on the way out!
Days out in Somerset at the National Trust (23 July- 4 September)

GIve your kiddos a glimpse of life before iPads and have a go at playing old-fashioned games at beautiful National Trust properties around Somerset. Victorian favourites such as Quoits, hula-hoops, skipping, OXO, Snakes and Ladders and croquet will be on offer at Tyntesfield, North Somerset. Enjoy games and activities like Kubb, Connect 4, giant Jenga and boules on the beautiful Cedar Lawn at Montacute House, or if you've been inspired by Wimbledon, have a go at tennis at Barrington Court, in South Somerset. Games are weather dependent.
Over at Lytes Cary, children aged 5+ can get hands-on and learn how to build a birdbox (9 August) – sessions run hourly throughout the day.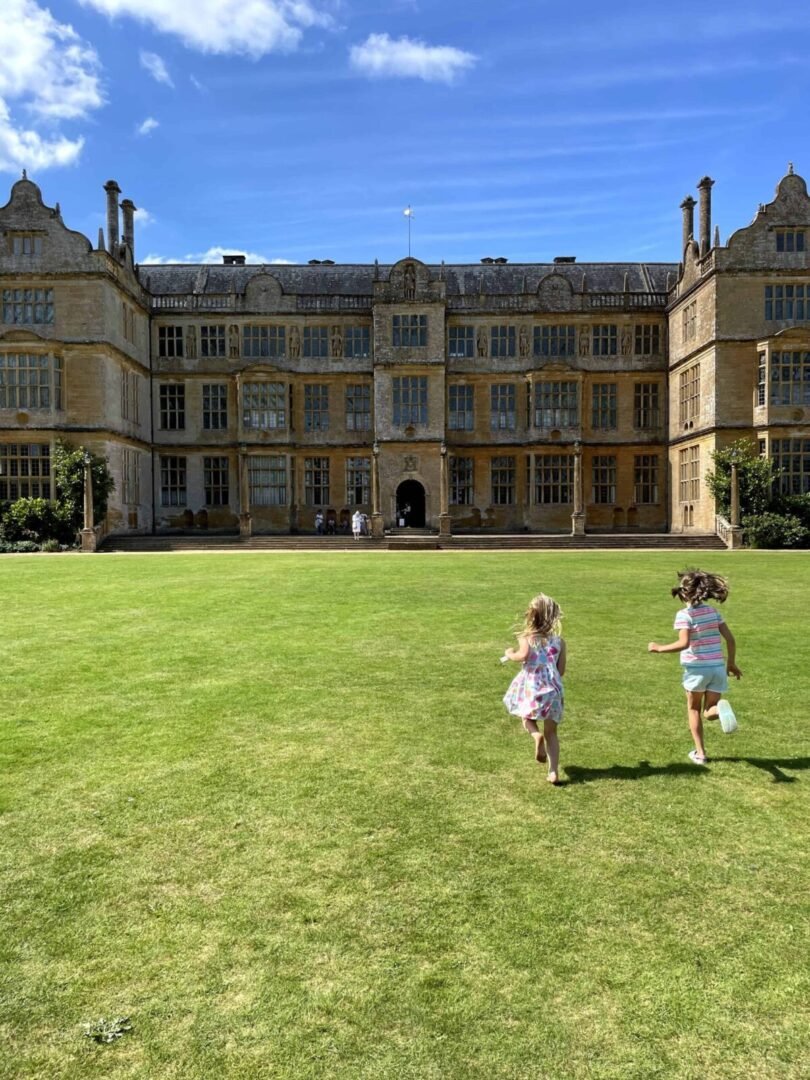 Animal days out in Somerset
A herd of 26 hand-painted Elephant Sculptures will form a trail over the 100 acres of North Somerset countryside at Noah's Ark this summer. Each sculpture has been created by local and international artists to raise awareness of the need for global elephant conservation. Noah's Ark is home to the UK's only African Elephant bull facility.
Where else in the world can you see real unicorns, mermaids and dragons tower above your children? Somerset Reindeer Farm, that's where! Grab an ice cream and follow your Elf guide on this 1-hour tour, meeting magical creatures and mystical performers as you go. Kids get to take a cuddly toy home too.
Meet animals, explore Dinosaur Valley and its gigantic animatronic creatures, go off-roading in a mini jeep safari, have a go on the adventure playgrounds, boing on the giant pillows, ride the Strawberry Line miniature railway, play mini golf or race go-carts, play on the indoor soft play and more, all summer long at Avon Valley Adventure and Wildlife park.
As well as the usual rides and attractions, special events will be taking place during the summer, including a visit from Hey Duggee (23-24 July), and a massive family water fight (28-29 August).
Get ready for heaps of fun in the festival field, with magic, bubbles, circus skills, inflatables, games, crafts and more. As well as entertainment and activities, there will also be a funfair, trailer rides, straw pool, slip 'n' slide, farm park and animals to meet.
Meet Titch the T-Rex, raptors, Gretel the Triceratops and more during this 4-day dino extravaganza. Frolic in the new indoor soft play, cuddle animals and have a go at crazy golf, plus a whole host of other activities.
The Portishead Summer Show is a two day family show combining a traditional flower show with activities that promote local country life, nature and the environment. There's also live music, food, drink, children's activities, a dog show, a pig show (!), mobile farm, Punch and Judy, fun sports, fancy dress parade for kids under 10 (Saturday 3.30pm) and lots more!
A one-day ​​agricultural show featuring everything from dog shows, cider championships and cheese tasting to livestock displays, vintage vehicles, live music and craft classes.
On the bill for the 44th edition of Dunster Country Fair are a Shetland Pony Grand National, falconry display, vintage tractors, ferret racing, miniature railways and more.
Heritage days out in Somerset
Summer at The Helicopter Museum, Weston-super-Mare
Blow your kiddos' minds with choppers, dinos (24 July) and magic (every Wednesday in August) at The Helicopter Museum this summer. Open Cockpit days ((31 July, 3, 7, 10, 14, 17, 24, 28, 31 August) allow visitors to access the cockpits of selected helicopters and have the controls explained by an experienced guide.
Dinosaurs will be descending on the museum on 24 July with live dino shows, interactive 3D backdrop displays from Jurassic Park, a dinosaur petting zoo and more!
One of the largest aviation museum's in the world, Fleet Air Arm is home to a whopping 90 flying machines. This summer, learn about life on board an aircraft carrier (23 July-4 August) and discover how the Royal Navy operates its airfield at sea.
Head to the museum on 25 August for a special FAAMily fun day, parachute games and pop-up stalls.
Trains run from the Victorian Era station at Midsomer Norton South over one mile of the Somerset & Dorset mainline railway. Plans are underway for a Teddy Bear's picnic – check the website for more details.
Peppa and nostalgia at East Somerset Railway, Shepton Mallet (6 August)
Don't miss Peppa and George Pig making an appearance (6 August) during story time sessions, on the train platform at 10.15am, 11.15am, 12.15pm, 1.15pm , 2.15pm and 3.15pm. As well as seeing these famous swines, you'll also be able to ride the steam train as many times as you like, look around the Engine Shed and watch Punch and Judy.
Travel back in time to yesteryear (28-30 August), with jazz bands, Punch and Judy shows, vintage military and civilian vehicles and traditional children's games, plus steam trains running throughout the day.
This delightful narrow gauge railway in South Somerset is privately operated by the Gartell family and their friends and only opened to the public on selected dates (see above) throughout the year.
Meet Brunel K Beagle, who will be making appearances throughout the day on Minehead platform. No ticket is needed to visit the platform and meet Brunel, but you will need a standard rover ticket or other valid ticket if you wish to travel on the steam train.
What's your favourite kind of choo choo? Don't know? Well, you can try all kinds of heritage trains at Yeovil Junction this summer in Somerset. Diesel Train Days (10.30am-2.40pm, 26 July, 2, 9, 16, 23, 30 August), Steam Train Days (7, 21 August) and an extended Tractor and Trains Weekend (30-31 July) whisk passengers off along the 1/3rd mile of the ex-Great Western Railway Clifton Maybank branch.
Also onsite are a miniature railway, model railway, cafe, exhibits and shop.
Marvel at over 30 stationary steam engines and pumps on display, then test your knowledge in a quiz to win a prize.
Under the apple trees
A multi-sensory experience for families and children set in cider orchards in the Somerset countryside. This event is part of The Somerset Food Trail 2022 and perfect for under 12s and their families.
Wood-fired pizza washed down with some delicious chilled cider, under the apple trees from whence it came, does a delightful late summer Saturday afternoon make.
Every Saturday, Ethic Street Pizza will be cooking up a storm at charming, olde worlde Perrys Cider and the vibe is very much chilled-out nibbling. Don't miss the beautiful farm shop if you go.
Pop Ups at Somerset Cider Brandy, Burrow Hill, Kingsbury Episcopi
Burrow Hill Cider Farm (home of Somerset Cider Brandy and the famous Somerset Cider Bus) uses age-old traditional methods of production to create dangerously delicious cider. Coordinate your visit with one of their summer pop-ups to quaff it alongside scrumptious food in the orchard, surrounded by cows, tractors, plenty of pooches and picnicking families.
Events this summer take place on Saturdays from 10am-5pm and include Pizza by Pizza nomnom, cocktails and cider in the orchards (23 July), food, cocktails and cider in the orchards (July 30), Music by the Boston Tea Party and pizza by pizza Nom Nom (6 August), Music by Pianoman and Artimis Wild Burgers (13 August), The Kings of Lounge and Artimis Wild Burgers (20 August), HOLM pop up (12-3pm, 27 & 28 August).
Family Theatre days out in Somerset
Taunton Brewhouse has an array of performances aimed at families – from an adaptation of Eric Carlisle's The Very Hungry Caterpillar (2-3 August), to Fireman Sam (16 August), Why the Whales Came (19-20 August) and wild science show, Brainiac Live! Remixed (6 August)
Alice in Wonderland gets the Folksy Theatre treatment, filled with live music and puppetry, the peculiar characters are brought to life at the Merlin Theatre, Frome (3pm, 30 July).
The Tony Award-winning fairy tale, based on the DreamWorks Animation film, Shrek The Musical is packed with songs and spectacular costumes. It will be performed by the Beatnik Theatre Company at Octagon Theatre, Yeovil (20-23 July)
Outdoor Family Theatre
'All the world's a stage!' and that's never truer in summer, when Somerset's outdoor spaces are fashioned, quite literally, into open-air stages. Which one will you be digging out the picnic blanket for?
IKP's delightfully daft retelling infuses this classic fairytale with bundles of slapstick physical humour, puppetry, and plenty to keep the adults entertained too.
See this much-loved tale brought to life with live music and puppetry, in the gardens of Forde Abbey (5.30 pm – 6.30 pm).
Terrible Tudors, Glastonbury Abbey (3pm & 6pm, 27 August)
From the horrible Henries to the end of evil Elizabeth, hear the legends (and lies!) about the torturing Tudors.
Lying within the grounds of a medieval Benedictine Priory, these beautiful gardens will be the site of Folksy Theatre's rendition of Alice in Wonderland (3 August) and Tales of Peter Rabbit (27 August).
More days out in Somerset
Keep kids busy and active at this 18-hole crazy golf course and high ropes centre. In addition, there's also a fantastic range of activities including lower, less intense ropes to start with, a climbing wall, high ropes, totem pole and the power fan descender too.
When the temperature rises, seek out solace at Street outdoor pool, a sizeable 30m x 12m with a shallow, semi-circular kids' pool, splash park play area with interactive features like water jets and spray fountains. Warning, it does get busy on hot days!
Indulge your kiddo's latest obsession with a themed party at Chicagos from 3-5pm. Upcoming events include an Encanto Party (27 July), Paw Patrol (3 August) and Peppa Pig Party (31 August). £6 entry per child – kids meal included.
Take a guided tour of the night sky inside Immersive Theatres inflatable dome. Travel to the International Space Station, zoom across the Solar System and handle a famous meteorite from outer space. Aimed at kids 7+.
Family attractions to visit in Somerset
From millenia-old caves to legend-swirling landmarks, family-friendly animal parks to chic cultural hotspots, iconic views, coastal days out, sensational gardens and historical attractions, Somerset's varied landscape offers all kinds of adventures. Click on the button below for oodles of inspiration!
Read more:
37 Things to do in South Somerset with kids
Best cafes in Somerset for brunch
Family-friendly
School holidays
What's on